The Origins Of The Deep State: Lucifer's Evil Empire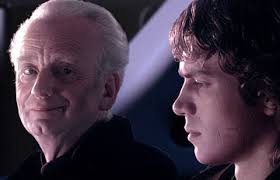 The closest analogy, I could come to "Lucifer's Evil Empire" is "Palpatine's Empire" in Star Wars. I tried to lay this out as best I could in my blog "Confronting and Handling Evil on Planet Earth".
Lucifer's major evil plan occurred about 500,000 years ago when his Empire tried to conquer the Galaxy Federation(The Forces of God). It didn't end well for the Empire and ever since then, they've been plotting another takeover bid of the Galaxy. The Nazi/Reptilian Alliance were suppose to assist in this war, but they were thwarted again.
Soon after the fall, The Empire found allies in 22 genetic farmer groups (aliens) who were seeking human DNA and the memories that were contained in the DNA. The Empire would allow them access to DNA as long as they consented to holodeck rehabilitation programs. This was a BIG TRAP! The programs were implants. The whole idea was to make mankind and the aliens obsessive over heaven, hell, gambling, war, sex , genetic superiority, money, and vacations.
Galactic warlords became earthly warlords which created the conditions similiar to "Game of Thrones". Only Noah and his family were saved from the destructive flood on the wicked.
It was one of the most successful recruiting drives in history until Jesus came along.
Lucifer/Palpatine is an incredible manipulator. Check out this scene from "Revenge of the Sith".
The desire for revenge was/is strong in Lucifer and his followers because of the "Burn in Hell For A Very Long Time Judgement" that was placed on them. The Brotherhood of Christ disagreed with this judgement. Christ kept the door open to even the worst sinner with his "Father Forgive Them For They Know Not What They Do" while on the cross.
With Full Disclosure leading to the 1000 year Millennium, all of this material will be communicated fully and accurately to the human population.
Posted by qualteam at 10:51 PM EDT
Updated: Friday, 15 November 2019 8:51 AM EST