Top Ten Courtroom Cross Examinations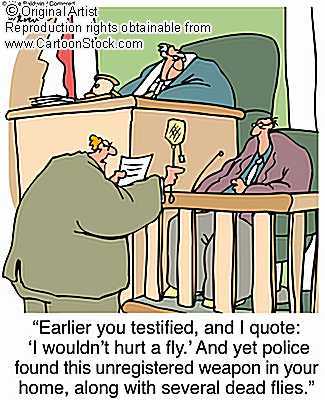 I discovered these courtroom interrogations by accident on www.stumbleupon.com . These incidents actually happened with different lawyers who were getting paid by governments or clients.
Attorney: Are you sexually active? Witness: No, I just lie there.
Attorney: So the date of conception of the baby was August 8th?Witness: Yes. Attorney: And what were you doing at that time? Witness: Uh.......
Attorney: All your responses MUST be oral, OK? What school did you go to? Witness: Oral.
Attorney: Now doctor, isn't it true that when a person dies in his sleep, he doesn't know about it until the next morning? Witness: Did you actually pass the bar exam?
Attorney: Do you recall the time that you examined the body? Witness: The autopsy started around 8:30 P.M. Attorney: And Mr. Denton was dead at the time? Witness: No, he was sitting on the table wondering why I was doing an autopsy on him.
Attorney: What was the first thing your husband said to you that morning? Witness: He said, "Where am I, Cathy?" Attorney: And why did that upset you? Witness: My name is Susan.
Attorney: She had three children, right? Witness: Yes. Attorney: How many were boys? Witness: None. Attorney: Were there any girls?
Attorney: Doctor, how many of your autopsies have you performed on dead people? Witness: All of my autopsies are performed on dead people.
Attorney: How was your first marriage terminated? Witness: By death? Attorney: And by whose death was it terminated?
Attorney: Doctor, before you performed the autopsy, did you check for a pulse? Witness: No. Attorney: Did you check for blood pressure? Witness: No. Attorney: Did you check for breathing? Witness: No. Attorney: So, then it is possible that the patient was alive when you began the autopsy? Witness: No. Attorney: How can you be so sure, doctor? Witness: Because his brain was sitting on my desk in a jar? Attorney: But could the patient have still been alive, nevertheless? Witness: Yes, it is possible that he could have been alive and practicing law.
Posted by qualteam at 9:49 PM EST
Updated: Thursday, 3 January 2008 9:52 PM EST