Mind Melding And Christianity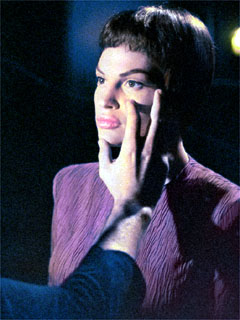 The original "Mind Melding" concept comes from the first Strar Trek series. It involved linking one's mind with that of another. Memories, thoughts and emotions could be shared on a very spiritual level. Looking at it from a religious point of view, you might call this act: "A Vulcan Communion Service".
Holy Communion in a church could be called a "Mind Meld With The Divine". The body and blood of Jesus Christ are touched by Christians through the symbols of bread and wine.
The Body Of Christ is everyone in the church past and present, so they connect with each other's mind as well. This is a mind meld of great proportions through space and time.
It is highly likely that "Crystal Skulls" play a profound role in memory transfer as well. It has been reported that if a crystal skull is nearby a sleeper some of its memories will flow into the sleeper's mind.
On the internet, a primitive kind of mind meld is achieved through hyperlinks to webpages, blogs, pictures and music.
Hopefully, this kind of communication reaches a deeper level than good natured banter and/or long winded explanations.

One Day At A Time/Christy Lane
Posted by qualteam at 11:39 PM EDT
Updated: Sunday, 25 May 2008 11:47 PM EDT