Top Ten T-Shirt Sayings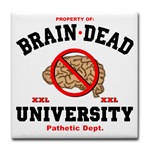 Throughout the years, people have communicated with funny stuff on T shirts. Here are some of my favourites.
I Got a Rock in my Head and Roll in my Mouth. Oh Ya.....Rock and Roll.
Moe (Picture of Three Stooges' Moe) Knows Hockey.
When God Created Man, She Was Only Kidding.
FU: Flamingo University
69 The Breakfast of Champions
I Killed a Six Pack Just to See It Die
Filthy Stinking Rich... Well, Two Out of Three Ain't Bad
I Used Up All My Sick Days... So I Called In Dead
Be Nice to Your Children... They'll Pick Your Nursing Home
I Am the Person Your Parents Warned You About
If you want to find more interesting T-shirt sayings, check out this page.
The person who sings the song below created some of TV's most popular game shows.
Posted by qualteam at 11:45 AM EDT
Updated: Wednesday, 23 July 2008 12:10 PM EDT