Free Trade, Brian Mulroney, Ronald Reagan and Donald Trump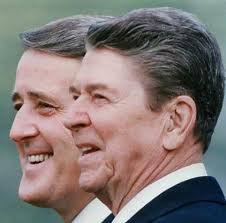 Above are the two who helped create the first Canada/US free trade deal in 1988. They are Prime Minister, Brian Mulroney and President Ronald Reagan. This deal was later expanded to include Mexico in the 1990s and was/is called NAFTA.
It is important to know what those initials (NAFTA) mean and what various trade deals are before you comment on them. Last year, there was this skeptical panel who questioned Donald Trump's knowledge of trade deals. The Washington Post even observed that Donald Trump was better at destroying deals than making them.
Trump's view of making deals is by imposing tariffs on countries first. This tactic is questioned by "The Economist" a newpaper read and written by economists.
The Canada/US trade deal was initiated by Ronald Reagan who saw free trade deals as a way to bring prosperity to all nations. It was necessary to have a lot of good will to make these deals.
Trump views trade deals as another kind of war. It isn't a win/win agreement. It's a "I win, you lose agreement". Obviously, that's going to bring out the fight in many countries including Canada.
Ronald Reagan's views on Free Trade and those who would weaken economic ties was well articulated in this video portion of this Maclean's article.
Please help me send this article and video to all media and politicians in the U.S. via a tweet storm using this Tweet List or some other.
P.S. Here's an update on the war between the Trump and Canada. It's a Youtube video from talk show host, Stephen Colbert.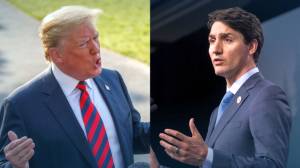 P.S. An hilarious look at the differences between Justin Trudeau and Donald Trump.
Posted by qualteam at 2:06 PM EDT
Updated: Sunday, 17 June 2018 4:52 PM EDT