Beware Of The Toilet Police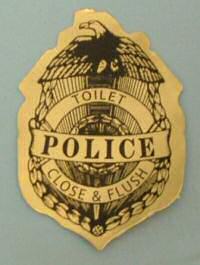 This memo was actually sent to employees of a company that my wife used to work for:
PLEASE
FLUSH TOILET WHEN DONE
NO STANDING ON THE TOILET SEAT
If this bathroom is not kept clean, we will be forced to lock the bathroom door.
Then you will have to get the key from your shift supervisor.
It will be inspected before and after you use it.
From Management
Remember you might be being watched at all times.

Posted by qualteam at 12:33 PM EDT