Proof of UFOs, Proof of a UFO Coverup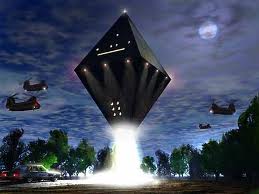 "The UFO Hypothesis" has been around for over 70 years, but many people can't imagine how UFOs could get here because they consider Einstein's theory of the speed of light to be an absolute truth. The Earth is like some kind of prison planet where no one can go anywhere and no one can come here. A universe of trillions upon trillions of stars with no means of transportation to anywhere. Why would God or the powers that be create such a restricted cosmos??
I don't believe that science has discovered the absolute truths about the universe. We are still finding out new things and discovering possibilities for extraterrestrial flight. This includes warp drive, wormhole mechanics, space/time compression, etc. A more advanced civilization would have developed these possibilities into a workable science, and while there may be "no smoking gun" of hard evidence to prove this scientifically, there is enough legal evidence to prove ETs are here. Check out this link.
There is a massive collection of evidence on UFOs from scientifically-oriented MUFON, Disclosure groups like "Paradigm Research", TV Programs like "Hangar One" and data dumps on the internet.
Another compelling reason there are UFOs is the fact there was and still is a UFO coverup on a massive scale (This is the best video on this subject). Why would governments work so hard covering all this stuff up if it didn't exist?
Stanton Friedman has checked out thousands of documents on UFOs and was able to separate the frauds from the real thing. This was very difficult work. He has spent 40 years of his life doing it.
There's much more to ETs and UFOs than flying discs or crashed saucers like Roswell. If you go further into my blog, you can start putting the pieces together like I did.
Posted by qualteam at 5:37 PM EDT
Updated: Saturday, 4 July 2015 7:49 AM EDT