My History With Canada Post and CUPW (Union)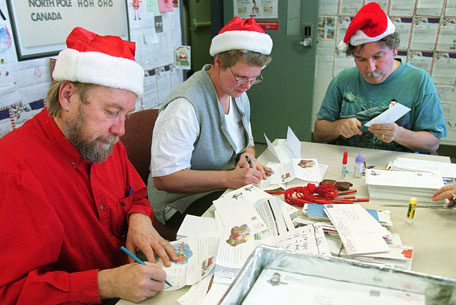 Christmas was one of my happiest times while working at the Post Office. I felt like an elf delivering Santa's gifts through the mail.
In the picture above, retired postie elves write back to kids who sent letters to Santa Claus: North Pole Canada H0H 0H0. I might volunteer for that position this year.
It would be very difficult to compress my 35 year history with Canada Post and the Canadian Union of Postal Workers into a few blog entries, so I created a website to detail my experiences. This site can be found at www.cupw.info. There's lots of great songs on these webpages too.
I was fortunate to have a
good job
at Canada Post without any layoffs. It's one of the
top employers in Canada
and despite the market downturn
the pension plan
is still well funded.

Posted by qualteam at 9:55 PM EDT
Updated: Sunday, 19 April 2009 12:31 PM EDT