Changing The World With One Micro Loan After Another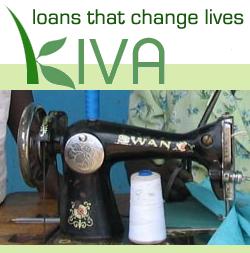 Kiva
(a charity) was launched in the fall of 2005 by Matt and Jessica Flannery of San Francisco, after Jessica heard about
Dr. Muhammad Yunus
and
the Grameen Bank.

Kiva has made more than $35 million in loans from about 311,000 lenders to more than 50,000 entrepreneurs in 43 countries. It has a 98.13 per cent repayment rate. All the donations to Kiva go directly to the entrepreneurs. The lenders can select the small business owners themselves and follow their progress.
For instance, loans to women in Guatemala helped them to buy sewing machines to make clothes to sell in their community.
There are many different organizations and charities that support Kiva. You could start a group at your job or school and organize potluck dinners, bikerides and other events to help them.
This is a hand up and not a handout.
Posted by qualteam at 11:59 AM EDT
Updated: Sunday, 27 July 2008 12:25 PM EDT