My Respect For Howard Hampton Just Went Up
Mood:
a-ok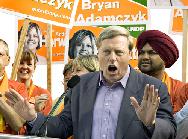 There's so much posturing and spin doctoring in elections that I found it refreshing when I watched Howard Hampton's tirade against the lapdog media.
The faith base issue was a good one for Howard to focus on.

1. It's a stupid mistake from someone (John Tory) who should have known better. 2.It's a dumbed down concept so any moron can understand it. 3. It's controversial. 4. It's an easy no brain issue for instant public attention on the campaign trail. 5. It's a easy way to avoid other difficult issues in the election race. 6. It's played right into the hands of Liberal strategists for their attack ads.
Posted by qualteam at 9:39 AM EDT
Updated: Friday, 5 October 2007 1:38 PM EDT