Toronto Moved From Laughs To Leafs In 20 Minutes
Mood:
a-ok
In the first period tonight, Toronto moved ahead 3 to 1 in the first period. Raycroft then let in a soft goal and the Leafs seemed to come undone. Slowly, but surely Montreal scored goal after goal until they were ahead 5 to 3.
I turned the TV off in disgust. I really thought the Leaf were going to do their usual choke in a big game. Do you remember last year and the double losses to Montreal that put them out of the playoffs?
A little later, I tuned the TV on and the Leafs had jumped to a 6 to 5 lead. I was exposed as a fair weather fan, but there was a lesson here to learn. Despite the setbacks (lots of losses at home) of this year and other years, the Leafs won their respectability back. Whether or not, they make the payoffs is irrelevant. They won the biggest game of year in front of their home fans and that's what matters.
I'm proud to be a Leaf fan and the team will always be a champion to me. I remember 1967.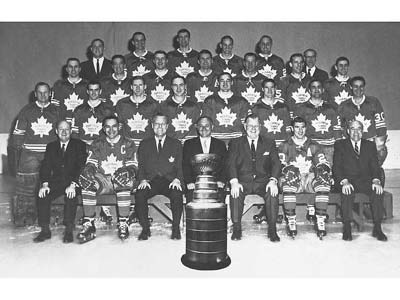 History Of The Toronto_Maple_Leafs

Posted by qualteam at 11:00 PM EDT
Updated: Saturday, 7 April 2007 11:03 PM EDT