Thinking Outside The Mental Trap (i.e. The Box)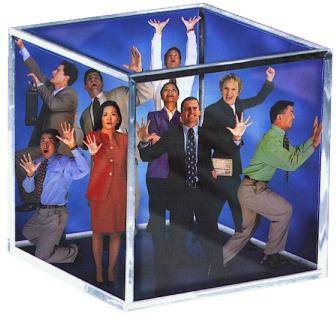 The mental trap or "The Box" as it is often called came from "experts" and their followers on such subjects like religion, science, economics and foreign affairs.
"Thinking Outside The Box" is just another way of engaging in "Independent Thinking". Please check out those hyperlinks. There's relevant material on those webpages.
These mental boxes are created by know-it-all authorities who probably do a great deal of debunking of other people's creative ideas. An outstanding example of this is the criticism levelled at inventor, Thane Heins, with regards to his offbeat electrical motor.
"Conventional wisdom" and "expert opinion" often trys mold us into sheeplike victims of fate.
If we followed these "shamans", we'd probably still be hurling rocks at each other in caves.
Posted by qualteam at 3:06 PM EST
Updated: Tuesday, 26 February 2008 3:29 PM EST