Christian Search and Rescue For Lost Souls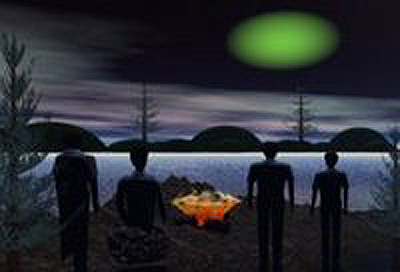 Most of us are aware of the mission of The Salvation Army to save lost souls in physical bodies.
Recently, I became aware of "Christ's Extraterrestrial Salvation Army" who rescue lost souls who haven't been picked up by the Light. They may be around graveyards, abandoned houses, hospitals, deserted roads, etc. Such places can become active with paranormal activity which are seen on TV shows like "Paranormal Survivor" and "Dead Files".
Beings who died under tragic circumstances like murder, sickness and insanity can exhibit PTSD symptons well after death. They may not know who or what they are. They feel unloved, ugly, and rejected.
The Roman Catholic Church calls this state Purgatory.
The missionaires in the "Search and Rescue Shuttle" are trained to show love and empathy towards these damaged souls. Religious hymns like "I'll Fly Away" are used to attract them. They don't preach at these souls. They just tell them that "Jesus Loves Them" and they'll go to a place where they are loved.
The souls are taken to a debriefing centre somewhere in the galaxy where they are given a life review. What happens after that is in the hands of Jesus and the apostles of the church.
From what I know of other exterrestrials, they won't touch lost or damaged souls with a ten foot pole. They want overachievers not high maintenance beings.
Here is a test to see if you're lost soul. Check it out.
P.S. The missionaires looked like characters from the Toy Story movies. "You've got a friend in me."
Posted by qualteam at 10:35 PM EDT
Updated: Thursday, 18 July 2019 4:17 PM EDT