The War On Poverty In Ontario And Canada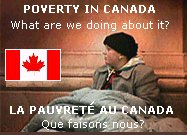 The Ontario Government is taking submissions on poverty in Ontario and Canada. My ideas are listed below:
Children in poverty are often poorly clothed and hungry. Their education and self image can suffer because of this. Particular attention has to go to eliminating hunger, bad clothing and unhygienic conditions, so disadvantaged children can learn and socialize with other kids without being bullied or humiliated.

Tim Hortons has a summer camp program for underpriviledged children. This has been very successful in Ontario. Other corporate sponsors should be found for specialized summer camps for artistic, gifted and difficult children. Whatever the need is for these special students, they should be helped by individual, corporate and government donations.

There are places in the libraries and community centres where events and sports are held for kids and youth. I believe its important to sponsor extracurricular activites (like acting groups) and sports teams in a community. Youths, and children have to get out and learn new things plus exercise in a fun way with others. Sometimes poor families can't afford the expense of these activities, so they have to be assisted by charities.

There has to be a crusade against poverty from the highest level of government and business organizations. The greatest resource of any country is its children. Poor children must be given an opportunity to succeed like other middle class children.

Improved programs for retraining and certification of immigrants must be stressed. There should be more Employment Insurance money spent in Ontario on projects to help people get away from deadend contract and minimun wage jobs.
If you want to make your own contribution to a "New Strategy on Poverty in Ontario and Canada", please click on this link.

Bridge Over Troubled Waters/Simon and Garfunkle
Posted by qualteam at 10:07 PM EDT
Updated: Sunday, 22 June 2008 8:55 PM EDT