Muhammad Yunus And The Grameen Bank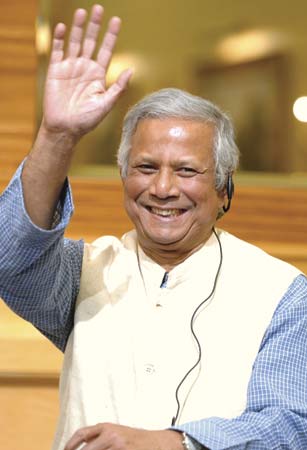 This has to be one of the biggest success stories of the 21st century. It's both a human and a financial success story.
Mr. Yunus is a Nobel Prize winning economist who empowered poor people with his money and his trust. Look at the record:
"Grameen Bank has 7.5 million borrowers, about 97 per cent of them impoverished women. The bank lends out about $1 billion each year in small loans to help stimulate the most basic entrepreneurial activities, such as processing rice, raising chickens or selling eggs. And even with no required collateral or default penalties, Grameen Bank boasts a repayment rate of more than 98 per cent".
It's important to note that Mr. Yunus has established a bank branch in New York City. That doesn't mean the U.S. is now a third world country, but it does mean there are uses for this kind of financial institution in prosperous countries like the United States and Canada.
Below are some of my suggestions for Ontario and the rest of Canada:
His bank could offer credit/work counseling and small loans for those who wanted to work at a small business.

His bank would allow those who are not credit worthy to have a bank account and to develop a credit rating.

His bank would offer competition to exploitive "Pay Day Loan Companies" with ludicrously high interest rates.

His bank could help "contract-employees" get started.

His bank could work with the Ontario Government in advancing green technology and green businesses in Ontario.
I'm sure you can think of other ways that "micro-financing" could be used in your province, state or city. Let the politicos know your ideas on this subject.
Posted by qualteam at 12:18 PM EDT
Updated: Tuesday, 10 June 2008 2:42 PM EDT