Looking For Another Job In A New Industry?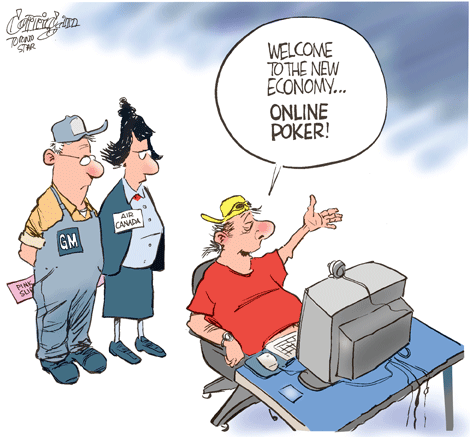 The old economy with its gas guzzling planes and automobiles is starting to go down the tubes. Look at the job cuts to "Air Canada" and "GM Canada".
That doesn't mean that online poker is producing a new economy in Canada or the world. Many people have always enjoyed gambling. At "Poker Stars", I recently improved my poker playing by winning $17,000 in play money over three weeks. That doesn't mean, I'm going to become a profession poker player.
It's good to get better at a challenging game, but a new economy can and will replace an old one. Look at the industrial revolution in the 19th century.
The Government must concentrate on bringing companies to Ontario that will build fuel efficient autos, trucks, buses, and planes. That's part of any "New Economy".
Posted by qualteam at 10:10 PM EDT
Updated: Thursday, 19 June 2008 10:26 PM EDT