Great Songwriting Duos Of The 20th Century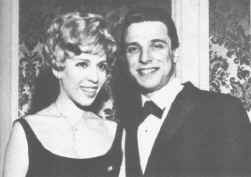 In discussing the roots of today's popular music, I couldn't leave the subject with Carole King and Gerry Goffin. There were other marvelous songwriters that I should mention here like Lennon and McCartney, Leiber and Stoller, Elton John and Bernie Taupin and my personal favourites, Barry Mann and Cynthia Weil. The picture above was them from the 1960s.
Barry and Cynthia are almost pure songwriters who have written hits for Tony Orlando, The Drifters, Dan Hill, Dolly Parton, James Ingram, etc. They've written almost 50 hits over four decades.
Below is a rare B-side recording by Barry called "Love True Love". The A-side was his only hit

Who Put The Bop?
One of my all time favourites was written by Barry and Cynthia. It's "Bless You" by Tony Orlando. Enjoy.
Posted by qualteam at 10:35 PM EST
Updated: Friday, 11 January 2008 11:33 PM EST