Lunch With Canada Post President, Moya Greene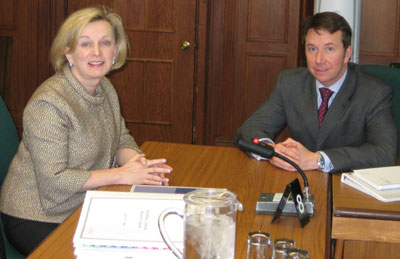 I'm not the person in this picture with Moya Greene. That's Liberal MP, Scott Brison.
However, my wife and I did have lunch with her at Heritage Fish & Chips in Brampton.
We talked about the joys of retirement and, of course, Canada Post, the Canada Post Pension Plan and CUPW. Revenues were down because of the recession and Canada Post still needs to cut costs. This is understandable because our defined pension plan depends on Canada Post profits as well as employee contributions.
We also talked about the kinds of electrical vehicles that Canada Post needs for the future, but these have to be made individually for the particular requirements of the company.
Both my wife, Irene, and Moya were from Newfoundland, so they shared moments of reflection on this one-of-a-kind province.
Like many of her fellow Newfoundlanders, Moya has an unpretentious friendliness and outspokeness about her. She definitely wants Canada Post to survive this downturn and insure jobs for present employees and defined benefits for retired employees.
There are many pension plans in dire straights these days. It's important to take nothing for granted about company profitability. All employees have to work together to make sure the employer makes enough profit to pay sustainable retiree benefits and pensions.
My history in Canada Post and CUPW can be found at www.cupw.info.
Posted by qualteam at 9:55 PM EDT
Updated: Thursday, 11 June 2009 11:22 PM EDT