Let's Help Create A Positive Future For Mankind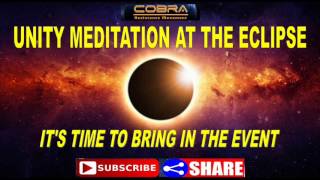 This meditation is being held on Aug/21/17 at 11.11 A.M. PST. It was created by Corey Goode and Cobra. Both Corey and Cobra have help from benevolent ETs called the Blue Avians and The Resistance.
All those involved want to bring positive changes that would include Full Disclosure of the ET contacts with planet Earth, new technology that would bring about free energy, healing, ways to produce food on a global level, a fairer financial system and a planet free from pollution/global warming. Added to this is an Event which will take down the cabal and arrest them for crimes against humanity.
There are suppose to be energetic shifts this year that will raise mankind's consciousness. From my point of view, I look at this as God's Spirit being poured out on all humanity at the end of an age.
Over the last two years, many of my blog entries have been oriented in bringing positive humans and positive ETs together for the liberation and healing of human beings on Earth. The Mass Meditation of Aug/21/17 is a good first step in that direction.
Posted by qualteam at 9:55 PM EDT
Updated: Monday, 14 August 2017 5:44 AM EDT