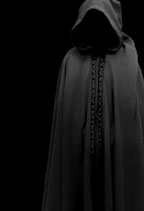 Some time after our agents disappeared, we received a brief telephone call from a potential ally near Hotel California. Here it is:
"I have escaped from my prison in the box. I know who is behind the abductions and the brainwashing of the innocents. If you can meet me in the ghost town of.....(unintelligible voices) No...He's come back....Help me! Send in more agents!.....Help!(silence)---transmission was begun and terminated on Nov/12/2000 at approximately 15:30 PM.
It's obvious that this poor soul was captured and returned to solitary confinement by Peter Meade and his cronies.
As special volunteers on this case, it is necessary to take evidence from all concerned including Deep Monk. His evidence is especially necessary in order to bring Meade and his gullible lackeys to justice.