CUPW National President, Deborah Bourque, Was At Gateway Today
Mood:
energetic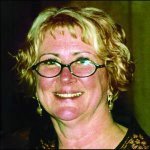 It wasn't to speak to the converted. She simply wanted to get out the vote for tomorrow's ratification meeting at The Toronto Congress Center.
Deborah has an intuitive sense of knowing when Canada Post is starting to push back on union demands for more. This was not the strong point of former presidents', Daryl Tingley and Jean Claude Parrot. They pushed Canada Post into the arms of an unsympathetic Government who gave us binding arbitration in four instances.
She has earned the ire of some local executives who feel that more could be achieved from further negotiations or a strike.
I'm aware of the pressure she feels from both sides. But with Parliament in session, the call for a "yes vote" is the proper one at this time.
Personally, I don't want to deal with Canada Post's retreaded rollbacks like a 30% increase in retirement benefits in further negotiations or in arbitration. A confrontational union would only create a confrontational Post Office and Government. It has happened many times in the past.
One Of Deborah Bourque's Recent Bulletins
The Campaign Against The Closures Of Post Offices
Posted by qualteam at 10:47 PM EDT
Updated: Friday, 13 April 2007 10:57 PM EDT