What Can We Do To Stop Global Warming?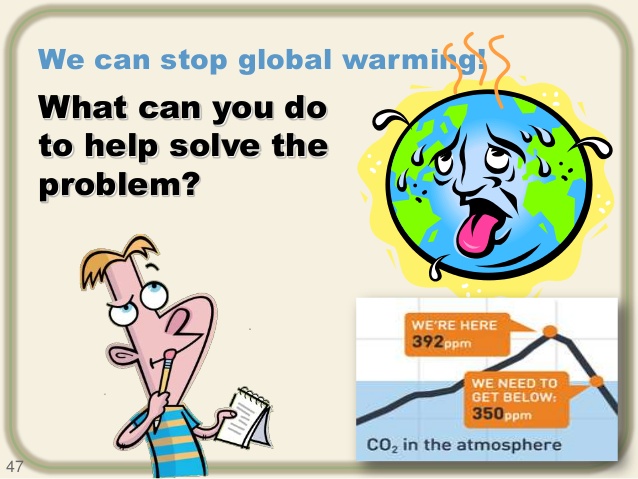 In the blog below this one, I made some suggestions as to how governments and individuals can tackle this subject.
On a personal level, you can become a dedicated climate change advocate by following David Suzuki's tough top ten list. If that's too hard for you, follow this easier top ten list. Basically, recognize the problem and do something about it.
Recognizing the problem involves accessing important research into climate change. "The National Geography Environment Study" is a good place to start. You can go deep into this subject. There exists 7000 studies on global warming over the last 30 years. There's lots of facts and statistics available.
Governments can encourage the use of alternate fuels in transportation like the hydrogen trains in Germany. They can support massive tree planting like those in Pakistan. There's all kinds of green projects that they and others can do.
Is there a quick way of dropping the temperature on our planet? Apparently, scientists can lower the Earth's temperate rapidly by shooting calcium carbonate into the air.
Please note, there is some evidence that cosmic rays cause the Earth to heat up but scientists disagee on how much. Michael Salla, ufologist says climate change is 80% cosmic rays and 20% man made. I believe it's probably the other way around 80%, man made and 20% cosmic rays.
I must stress, however, that governments and fossil fuel companies have shown a reluctance to funnel more resources towards an environmental cleanup. If this reluctance continues, more and more of the Earth could become uninhabitable and catastrophes could occur killing hundreds of millions of people. Remember the movie 2012.
I believe that positive exterrestrials will probably have to bail us out from the adverse effects of climate change and political idiocy similar to how they prevented nuclear warfare between the U.S. and Russia.
Put a Little Love in your Heart
Posted by qualteam at 12:01 AM EDT
Updated: Monday, 28 October 2019 11:31 PM EDT