A Top Ten Alien Contactee List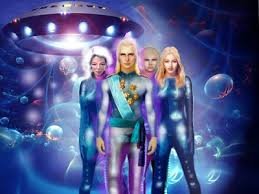 The bonds of blood can be quite strong in any family, but just imagine the bonds between souls of different life forms. They can carry over from one lifetime to the next. In examining the stories of various contactees with alien groups and individuals, I discovered that bonding of one kind or another was a common factor in most cases.
Here's my top ten list on this subject:
There are two honourable mentions that didn't make the top ten,
Bill Ryan
of
Project Camelot
and
Tom T. Moore
. Bill talks about a personal remarkable healing incident relating to other ET encounters, and Tom talks about First Contact scenarios in the near future relating to "Disclosure".
To sum up, the aliens recognized kindred spirits and felt comfortable about initiating direct contact with certain humans. What do you think?
Posted by qualteam at 4:32 PM EDT
Updated: Sunday, 5 April 2015 11:19 AM EDT