Las Vegas, The Hoover Dam and The Grand Canyon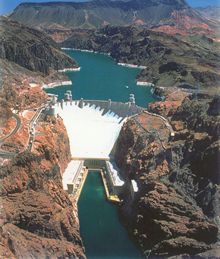 A true Las Vegas vacation should contain more than "The Strip" with its numerous casinos.
I'm pleased that we found other exciting things do besides gambling.
We went out route 93 to the Hoover Dam where we got the best view possible from the new Hoover Dam Bypass Bridge. It took our breath away because we were practically on top of the dam.
Further down the road at a Colorado River observation area, we bought some native necklaces from local Navajo vendors.
On the road to the Grand Canyon (Highway 25), we went to the B & B diner in Dolan Springs where we had some lunch. Surprisingly, everyone(Irene, Leslie, Blair and me) liked their meal. This didn't happened at expensive buffets in Vegas.
The Grand Canyon West was awesome, of course, especially the Skywalk.
In Vegas, we all liked the Ellis Island Casino for its good returns on slots and its cheap/good food and beer ($2.00 for a 20 ounce glass).
Earlier in the week, I spent too much time playing blackjack at El Cortez, but I saved the week by winning at blackjack, craps, roulette and slots at the Riviera.
We saw two great shows Jubilee and American Superstars. Make sure you have two-for-one coupons to see these shows because they are expensive.
I put more photos of our vacation on my Facebook page.
P.S. The best discount coupon books are "Las Vegas Perks" and "The America Casino Guide".
Posted by qualteam at 8:56 PM EST
Updated: Wednesday, 2 February 2011 6:43 PM EST