My Personal Top Ten Memorable Events Of 2010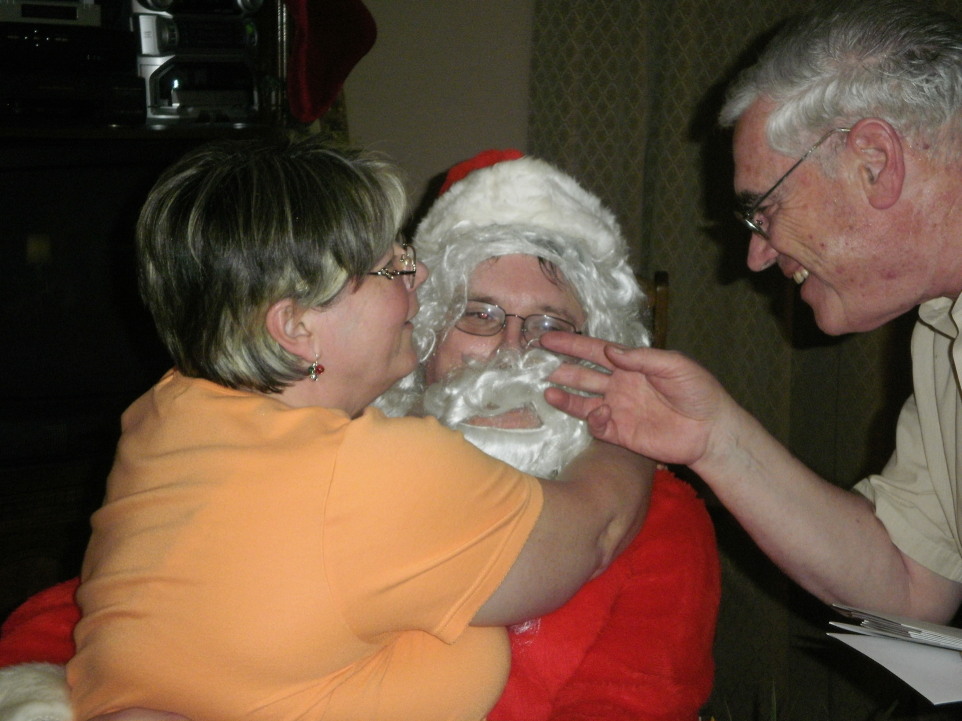 This was like a scene from "I Saw Mommy Kissing Santa Claus". Believe it or not I used to play Santa Claus in this terrible suit. This time it wasn't me.
I turned down the offer to play Santa again at Joe Noseworthy's Boxing Day reunion party. There were over 35 guests in attendance and "Santa" was one of them. It was the first and probably the last time we'll see St. Nick there. This party made my list of top ten memorable events during 2010 mainly because of the stupid looking Santa who appeared like he was on drugs.
Not all of the top ten events happened to me directly, but they did capture my attention and move me emotionally.
Canada won gold in hockey at the 2010 games. This seemed to be the perfect end to an Olympics that featured a record number of gold medals for Canada. I even got interested in curling at these games. Check out this Jamaican's view of Sidney Crosby's winning goal.

The Haitian earthquake happened when I was in Las Vegas. It seemed to contrast the fun and fantasy life of glitter city with the grim realities that people in other parts of the world have to live with. This event reinforced the idea that we are all each other keeper. During the year, we should contribute to charities and pray for the less fortunate. In the words of Marley in Dicken's Christmas Carol, "Humanity was my business".

For first time in four years, The Barron Family held a reunion at brother Bob's new house in Toronto. I sent a calender of the family picture to my sister (Linda) and two brothers (Ted and Bob).
In November, my wife (Irene) and I went to Nashville for the first time. Here is the blog entry link on this trip and the photos are located here.
The New Year's day party (2010) at Blair Noseworthy's place was especially memorable because it was the first time that I used the digital camera that I got for Christmas(2009). I snapped some good photos that day and the best ones are on Facebook. The girls look beautiful in these pictures and guys look handsome.
We went to Newfoundland for a month from the middle of July to the middle of August. I wrote many blog entries on our travels through the Avalon Peninsula. Here's one about our trip to Bell Island.
At the beginning of 2010, we went to Las Vegas and the weather was over 60F in the daytime while we were there. What we enjoyed the most is in my Las Vegas journal and The pictures are linked to here.
This is the "Boxing Day Special" starring Lawrie, Bryant and Joe Noseworthy above. Joe holds his Noseworthy reunion every year at his place. Usually about 35 relatives show up. What was special about this year's reunion was the appearance of Santa (Bryant Ho Ho Noseworthy) and "Gavin Richardson", the newest member of the Noseworthy clan. Please check out the pictures here.
Through prayer, we were able to handle a big problem with a department of The Canadian Government.
I sent a custom made calender from Vistaprint to Irene's brother(Clarence) and sister-in-law (Winnie) that contained 13 pictures from our vacations in 2010. They telephoned me to thank me personally for the calenders. It warms my heart when you can do something special for those who let us stay at their place while we were in Newfoundland.
Posted by qualteam at 12:15 AM EST
Updated: Friday, 31 December 2010 11:46 PM EST