Good Disability Lawyers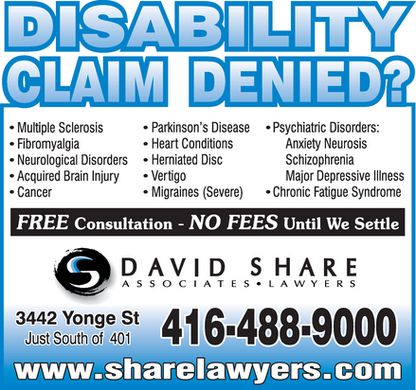 I hope you or your family never need a disability lawyer, but if you do there are two in the Toronto area that could help you out. The first one is David Share Associates and the second one is Aaron Lang. David specializes in insurance company disability claims and Aaron specializes in accident claims and CPP disability.
Both of these lawyers have a great deal of experience in the areas they specialize in. They have helped a few friends settle their claims.
CPP disability, especially, can be a mine field for most people because you have to get pass "The OCRT Tribunal" and "The Pension Appeals Board".
I would only promote someone on my blog who I felt was exceptional at what they did.
I also want to point out that the above lawyers take a 30% commission on any lump sum payment. Part of this fee is tax deductible.
Posted by qualteam at 9:39 PM EST
Updated: Tuesday, 16 November 2010 9:43 PM EST