We've Been In Newfoundland For A Week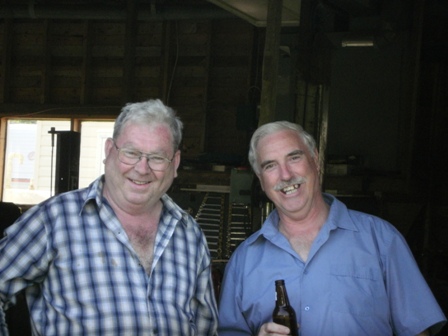 But the guys above have been there since they were born. The person on my right is my brother-in-law, Clarence Noseworthy and the gentleman on the left is Tom Lawlor his cousin. Tom recently retired from "The Canadian Coast Guard" after 34 years of service.
We went over to Tom's place at North River on July/24. Tom is a very funny guy who's had numerous entertaining experiences in other countries as well as in Newfoundland.
It would be difficult to recreate those stories in this blog without Tom's unique storytelling abilities. These stories also tend to be adult entertainment, so I can't deliver that material here. I asked Tom to put his stuff on a blog, so people can see how much fun Newfies can be.
Over the week, my wife, Irene, and I visited the oldest settlement in Canada and the second oldest settlement in North America. It's call Cupids. Check it out.
We also visited "The Brigus Tunnel" and took in some scenic sites in "Spaniard's Bay". I put the best photos on my Facebook website.
I also did things that I've never done before. This will be the topic of anoher blog.
Posted by qualteam at 9:30 AM EDT
Updated: Monday, 9 August 2010 7:21 AM EDT