We Don't Have To Be At The Mercy Of "The Gods Of The Stock Market"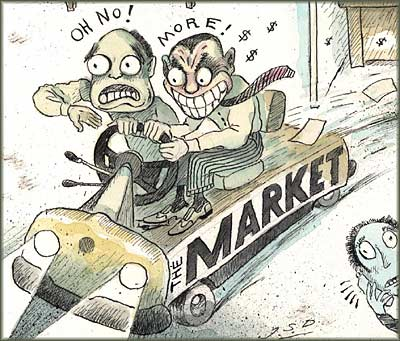 Sure there's a great deal of volatility and emotion in the stock market. That doesn't mean that you should be the effect of it. There are always many reasonable actions that you can do with your investment money:
Learn from your mistakes in the past and resolve not to do them again.
Invest in long term assets like a house, blue chip stocks and financial institutions that you trust.
Look at the subprime crisis as way of sweeping away phoney assets and incompetent financiers. A new broom sweeps clean.
Obtaining a good credit record should be done before buying a house.
Buying a decent house at a bargain price with a low interest rate should be the prime building block of your investment strategy.
Adding value to one's assets rather than chasing inflated stock values is a low risk strategy for good gains. For most people, this would be paying down the mortgage and doing renovations on a house.
Learn about why the market moves in a certain direction and make your own decision on independent data rather than following the sheep or "the financial experts".
We have to be willing to rebuild and start our investment projects with an obtainable dream.

A New Day Has Come
Posted by qualteam at 11:05 PM EDT
Updated: Thursday, 20 March 2008 10:41 PM EDT