Top Comments From Bear Stearns Employees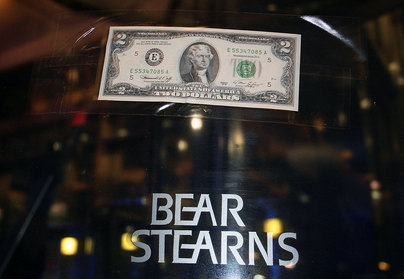 "I've been at Bear for 11 years and I want to vomit,"

"Where is the $2 bill?" I might need that tomorrow!"

"The price is crazy. Someone who'd won the lottery could have paid that price."

"It's not a bankruptcy, that's the good news, but JPMorgan is going to come out today and tell us what they think of us."

"A lot of these people are going to lose their jobs, and most of their wealth will have been in share options. They're soon going to be looking for a cheaper place to live."

"Bear does not offer payouts, known as 'golden parachutes,' for executives in the event of it being taken over."

One Bear Stearns employee, when asked for a reaction snapped: "You must be joking. What are you, a vulture? Get a life."
If Bear Stearns at $2.00 or $4.00 isn't a good bargain for you, perhaps you can get check out some undervalued Canadian banks. They never invested much in subprime mortgages. Most of the mortgages in Canada are given to people with good credit. I should know my mortgage is with "The Bank of Nova Scotia", an excellent Canadian bank.
As well as The Bank of Nova Scotia, The Royal Bank, and TD Canada Trust are the most highly rated banks in Canada. I have my automobile and house insurance with "RBC" and my investments with "TD Asset Management."
You have to be careful in selecting the financial institutions that you deal with or you might end up with another BEAR STEARNS.(Wow, talk about a suitable name.)
Posted by qualteam at 11:08 AM EDT
Updated: Tuesday, 18 March 2008 11:28 AM EDT