Reexaming My Irish Roots On St. Paddy's Day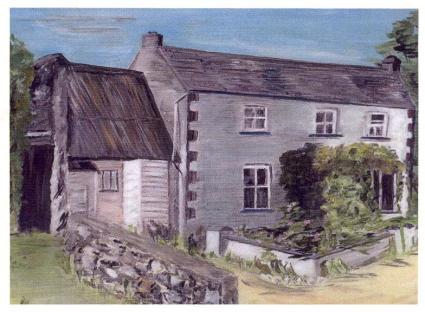 Last year, some of the facts on my Peever ancestry in Ireland were incorrect. My grandfather, Lindsay Peever was born in Pembroke, Canada around 1900. My greatgrandfather, James Peever was born in Poulawaddra in 1866 near Tralelee, Ireland. I would like to thank Kevin (Peever?) for that information.
The above picture is the old Peever homestead which is still standing in Poulawaddra.
My mother and I were both born in Pembroke, Ontario. It is a scenic small city on the Ottawa River about 90 miles from Ottawa. I spent many a summer at my grandfather's cottage fishing, swimming and having fun. I was lucky to have such a wonderful childhood connected with the great outdoors. Many children never get that chance.
I grew up in Barrie, Ontario and both my mother and father are buried there.
The quality that's most Irish about me has to be the singing. I won a singing contest when I was ten at a Country Fair and since then, I've been entertaining myself and others: in bands, in showers, and in karaoke bars.
Here's my favourite Irish song:

"When Irish Eyes Are Smiling".

Posted by qualteam at 10:40 PM EDT
Updated: Monday, 17 March 2008 11:14 PM EDT