Boycott Mexican Vacations And Products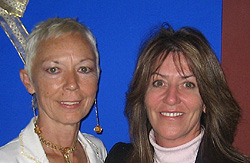 Brenda Martin (left side) has been in a crowded, filthy Mexican prison for the last two years.
Even though her former employer, Richard Waage, exonerated her in his internet pyramid scheme. The Mexican judicial system insisted on keeping Brenda in abominable conditions while under arrest. These conditions have made her suicidal.
Former Canadian prime minister, Paul Martin went to Mexico to see what he could do about it, but more effort is needed by present PM, Stephen Harper.
I think it's time to play hardball with our so called "NAFTA Buddies" down south. Checkout the "We don't need no stinkin' badges." video from the movie "Treasure of Sierra Madre".

Boycott Mexican vacations and products until this situation is handled. A letter to the Mexican embassy in Canada would be appropriate as well. Fax in Toronto: (416) 368-8141 in Ottawa: (613) 235 9123
Posted by qualteam at 1:04 PM EDT
Updated: Friday, 14 March 2008 3:11 PM EDT