Christmas Season Is Busy For Posties And Shoppers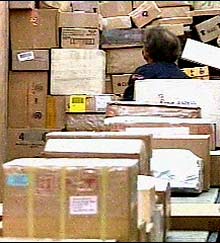 It's very busy at Canada Post these days. In our section, we're working 24 hours a day, 7 days a week to get the mail to our customers. That means lots of overtime.
My section is the Toronto Exchange Office (incoming foreign mail) and with the Canadian dollar very high. The mail has been a deluge.
Of course, there's shopping, decorating and cleaning up to do.
It's tough doing Christmas stuff and the blog too.
There's a great deal of commericalism during the holidays. It's good to be reminded every now and then what Christmas is it really about.
Below is one of favourite new Christmas songs, "Christmas Shoes".
Posted by qualteam at 10:18 PM EST
Updated: Saturday, 8 December 2007 10:31 PM EST