A Special Remembrance Day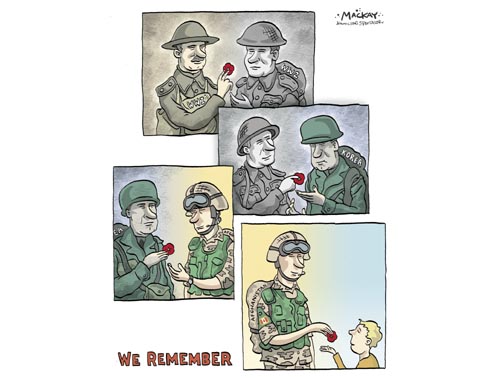 For the first time in 39 years, I visited my mother, Doreen Barron and my father, Edwin Barron in the same place. This was at Barrie Union Cemetery. My father died in March/1968. My mother passed away on Nov/10/06.
I have many fond memories of both my mother and father. My father was a World War Two veteran who guarded German POWs. After the war, he was promoted to sargent and taught militia personnel with The Grey and Simcoe Foresters. I was one of the recruits that he taught. He also got me a position as a temporary railway postal clerk during my highschool summer holidays. Eventually, I ended up with a permanent postal job in Toronto.
My mother always gave me sound advice on financial planning that I sometimes followed and sometimes didn't . She also helped me with various debts including my present mortgage.
She treated my wife, Irene, like a daughter and I'm very thankful for that.
Remembrance Day teaches us that we shouldn't take good things for granted. Our freedom from oppression was won by the sacrifices of others. I lost two uncles in World War Two.
We all have battles to fight in life and we must do our best to leave this world a better place than we found it.
There is divine help available for those who are committed to improving the lot of humanity.
Posted by qualteam at 9:56 PM EST
Updated: Sunday, 11 November 2007 10:47 PM EST