Who's Behind Lord Voldemort?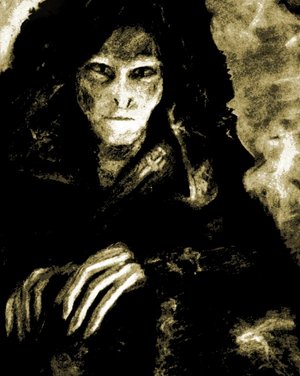 If I was writing the finally chapter of Harry Potter, I would have a religious group who is using Lord Voldemort for their own ends in order to deliver Harry Potter to them. For this, they are willing to give Voldemort eternal life. This is a conspiracy of a large order to rid the world of Harry Potter before he gives magical powers to the muggles. This secret is leaked out while in combat with Voldemort who's a racist.
Of course, Harry is quilty of "The Prime Directive For Magicians". Never reveal your secrets to anyone who is unmagical.
The contests with Voldemort was to sharpen his magical skills and to reveal his true intentions. He has failed and is executed with a full memory shutdown, but his friends perserve his memory in a Horcrux.
This is the way, I'd like to see it end with some big twists and turns in the plot, but, probably, J.K. Rawling won't kill off Harry. With mind numbing continuity, Voldemort will continue to be the last of the Nazi magicians and he will be killed off.
Posted by qualteam at 11:24 PM EDT
Updated: Monday, 16 July 2007 11:58 PM EDT