Memories Of Ed Mirvish: 1914 - 2007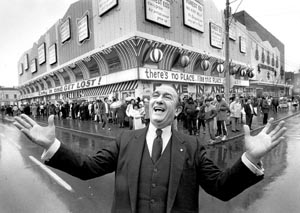 Most people remember Ed Mirvish for his generosity like giving out turkeys and fruitcake to poor people at Christmas time, but he also gave out money to indigent men who hung around his work place, North America's first big box discount store, "Honest Ed's".
While he's also remembered for bringing big theartical hits to "The Royal Alex" and "The Princess Of Wales" theatres, he established the "Poor Alex" for starving actors and writers to perform their new plays.
I saw many plays and musicals at the Royal Alex, "Romeo and Juliet", "The Pirates of Penzance" and "Mamma Mia" to name a few. When I first came to Toronto, I also shopped at "Honest Ed's". Who didn't?
I liked his quotes and his approach to business the most. Here's some of Ed's sayings:
Never give credit. My father gave credit and he died broke.
How cheap can a guy get? Come it and find out.
Our building is a dump. Our service is rotten, but our prices are the lowest in town.
Don't just stand there. Buy something.
How I would like to be remembered? I would like to erect a huge throne in the centre of Honest Ed's. I would then like my body cremated and the ashes put in an hourglass. I would then like someone sitting on the throne to keep turning the hourglass up and down, up and down, the employees would point to it and say, "There's Ed. He's still running."
Please note, that when SARS came to Toronto a few years back and scared visitors away, Ed and his son, David put together a tourist's discount package that included, hotel, dinner and a musical.
Thanks for making Toronto your home, Ed. We'll miss you.
Posted by qualteam at 10:40 PM EDT
Updated: Thursday, 12 July 2007 10:45 PM EDT