What Does It Mean To Be A Canadian?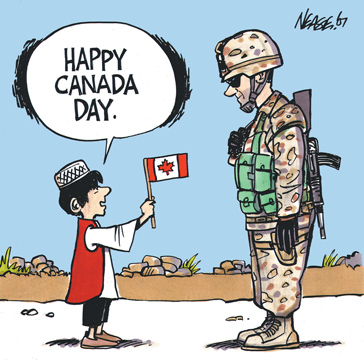 I've lived in Canada all my life. I was born in Pembroke, Ontario and I was raised in Barrie, Ontario. I've taken this country for granted, but I know that we're a land of diverse cultures, languages and religions.
What made me proud to be a Canadian lately was how well "The Native-Canadians' protests" were handled on June/29/07. The Mohawks put blockades on the road and rail lines to Montreal but there was no violence. Both the police and the CN railroad respected the blockades and in 24 hours they were taken down. The natives made a statement about their horrible living conditions and most us acknowledged their right to do so.
"What does it mean to be a Canadian?" Here's how a new immigrant answered that question in a letter to the Toronto Star today:
"This is maple leaf country, where most people still believe in human rights, that our system works and that we can save the planet from global warming. As a proud new Canadian,, I know now that being Canadian means to be a volunteer, a peacemaker and an eternal believer".
June 29/06/07: Native Canadian Day Of Protest
Posted by qualteam at 10:13 AM EDT