Happy St. Patrick's Day
Mood:
lyrical
Part of my heritage is Irish on my mother's side. She is a Peever and her father Lindsay was born near Tralee in Kerry County in Ireland. It's on the bottom left of this picture. What is also remarkable was that my grandfather was Protestant Irish in Southern Catholic Ireland.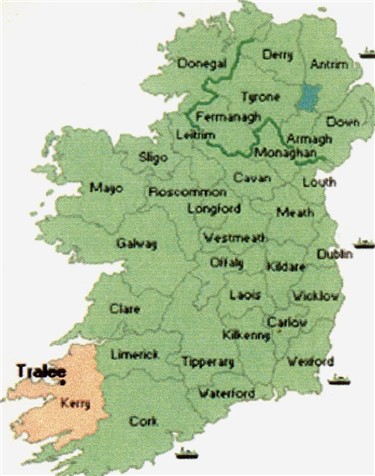 It's a stereotype, but Irish people are thought to be good singers, drinkers and fighters. I fit into two catagories anyway. I love singing and I love fighting for what I believe in.
I've also been lucky to have a good job at Canada Post because I was fired at five other jobs before I was hired there.
The History Behind Saint_Patrick's_Day
A Medley Of Irish Songs By Dennis Morgan

Posted by qualteam at 10:36 PM EDT
Updated: Saturday, 17 March 2007 10:58 PM EDT