#1 Issue In The Canadian Federal Election
The number one issue in this election is FISCAL RESPONSIBILITY. No government can afford to waste billions, even millions of dollars of the
taxpayer's money.

Promises relating to social programs and even the every day operation of government is dependent on revenues from the citizens of Canada.

What I wanted to hear on last night's debate was "a hard line on fiscal responsibility" from the party's leaders. I didn't get it. What I mean by
"HARD LINE" is complete accountability for every dollar, dime and nickel that a government department spends.

I want to see upgraded accountancy and monitoring practices that can catch boondoggles, waste, criminal activities before the red ink begins to gush through the press to the public.

There has to be legislation in place that goes beyond Auditor General scrutiny to accomplish this. Something that can correct monetary
irregularities before they become "SINK HOLES".

If a party wants my vote and maybe millions of others, it should tell me and the Canadian public its bright ideas for handling problems that have plagued Liberal and Conservative Governments since Confederation.

More Views On "The Great Debate"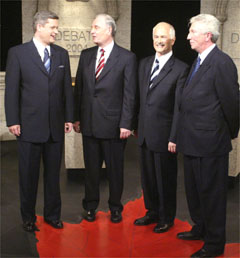 From left to right, Stephen Harper, Conservative, Paul Martin, Prime Minister, Jack Layton, NDP, Gilles Duceppe, Bloc Quebecois

Posted by qualteam at 11:37 AM EDT
Updated: Wednesday, 16 June 2004 11:39 AM EDT