The Peace Train Project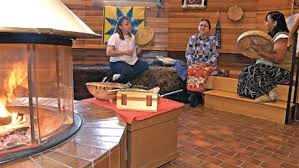 NAMASTE
Namaste comes from Sanskrit and literally means "I bow to you," said with the accompanying pose at both greeting and parting. ... In Western yoga practice, namaste usually has spiritual applications, a way of recognizing one's inner divinity or peace.
I've chosen a picture of an indigenous healing lodge for this blog instead of a picture with railway blockades that are trying to #ShutCanadaDown. Yes, that's the hashtag on Twitter. To me, this is economic terrorism by radicalized youth.
This is an unpleasant situation for most of us in Canada.
One of the major sticking points for the Wetsuweten hereditary chiefs is the RCMP on their lands. Security Minister, Bill Blair agreed to pull the mounties back, but it wasn't far enough for the pissed off chiefs.
A game of tug-of-war was being played by Trudeau and native leaders to see who was the most powerful. Would Trudeau get the chiefs to dismantle their barricades first or would the leaders make Trudeau take the mounties off the reservation first?
This was a crazy game that wasn't helping the Wetsuweten people. No chiefs with dissenting views were even consulted.
Back in aboriginal history, there were chiefs like Tecumseh who had a vision of an independent Indian State. In Canada, there was Elijah Harper who fought against The Meech Lake Accord and wanted Native Canadians in Canada's Constitution.
The Wetsuweten leaders were only interested in stopping a pipeline and getting the RCMP off their lands.
There are many native councils who support the pipeline and the jobs that it can create.
There are many problems on indigenous lands that both politicians and chiefs often ignore: The Runaway Train (i.e High suicide rate among children), high unemployment, lack of clean water and nutritious food.
Fortunately, there are charities that provide assistance with hopelessness and food. I contribute to Crossroads TV and their charity for native persons on reservations.
Both natives and government officials can get very angry at each other. Then it comes time to seek out the healing lodge of your choice on or off the reservation.
Here is part of an e-mail that I sent The Minister of Indigenous Affairs, Marc Miller on Reconcilation:
"Indigenous people need a road out of their many problems. This would be program of preparing young natives for employment today and the jobs of tomorrow. Included with new jobs are tree planting and pipeline jobs that Canada and companies need now.
A true vision of the future would be a native-run university that would prepare Native Canadians for high paying jobs in all professions, including trades, green technology and computer technology. The true resources of any nation are individuals who embrace future technology like electric cars, solar power and technology that cleans the oceans. I'm sure that chiefs of all the nations could envision an indigenous university."
Lets get on The Peace Train and envision a better world for indigenous and non-indigenous peoples.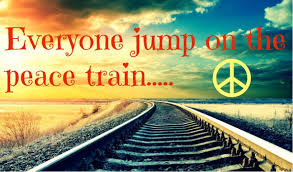 Posted by qualteam at 12:01 AM EST
Updated: Monday, 2 March 2020 8:17 PM EST