Preparation For ET Contact: Netflix's Messiah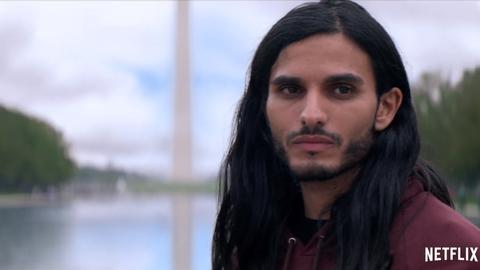 Many of the entries in the Barron Blog prepare the reader for contact with extraterrestrials. I've done much research into UFOs and The Secret Space Program. I don't paint a false rosey picture of what is out there. There is much deception in our Solar System that we should be aware of.
Another entry to my "Preparation For Alien Contact Program" is NetFlix's "Messiah". This video will give you a brief explanation of what it's all about and what the reviews are. To me, Messiah was disturbing and challenging. It seemed to be a prophecy of the near future in which a cult leader could be seen as "Jesus" or "The Anti-Christ".
Having studied different religions and material from "AncientAliens" and "Ufology", I found this Jesus-or-Antichrist explanation to be too simplistic.
A "Messiah" or alien ambassador could be from different places in the universe like the Pleiadas, Arcturus or even a weirder place like Star Trek's Q-Continuum.
He could be a contactee ET or an ancient legend: Billy Meier's Semjase?, The Stranger at the Pentagon, Valiant Thor?, George Van Tassel's Ashtar?, the Sumerian God Enki?, the Hindu Messiah Kalki?, The Muslim Messiah Mahdi?, The Mormon angel Moroni?, The Mayan God Quetzalcoatl?, an Ascended Master? The Second Coming of L.Ron Hubbard?
The Netflix Messiah could be the first of many ETs establishing First Contact with mankind.
The universe is a big place and I'm looking forward to meeting our celestial neigbours.
What are your thoughts on first contact and/or The Messiah?
P.S. Somewhere Over The Rainbow/What A Wonderful World
Posted by qualteam at 12:01 AM EST
Updated: Sunday, 23 February 2020 11:30 AM EST