The Rise of Skywalker: The Fall of Lucifer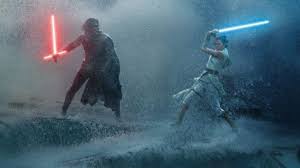 There are some spoilers in this blog on the movie "The Rise of Skywalker". This was hard to avoid. You should have some familiarity with the whole nine episodes of the Star Wars saga.
Please note, that there were weaknesses and failures in the Jedi Order that I missed until someone pointed them out to me in a review of "The Last Jedi". When I viewed the Last Jedi again on Netflix, I appreciated the tragic circumstances that Luke Skywalker found himself in.
Stars Wars wasn't just a story about the Jedi Knights, but also a story about the growth of the darkside of the force as demonstrated by "Darth Sidious"/Emperor Palpitine.
The last trilogy could be divided into three parts. "The Force Awakens" in which supreme leader Snoke appeared as a darkside ghost (Darth Plagueis?).
The Last Jedi showed how the evil powers of the First Order had taken its toll on Luke Skywalker and other Jedi. The Rise of Skywalker exposes Palpitine as the ultimate Puppet Master and Prince of Darkness.
The Star War prequels revealed Palpitine as a master manipulator who was capable of seducing powerful Jedi like Anakin Skywalker to the dark side of the force.
In the original trilogy, DarthVader was Palpitine's puppet until he was set free with the help of his son, Luke Skywalker.
In the first movie in the prequel "The Phantom Menace", we saw Anakin Skywalker as the chosen one and Darth Sidious climbing the ladder of evil in the Republic.
In Rise of Skywalker, the culmination of Palpitine's darkside powers was uniting the total power of the Sith into himself.
His ultimate plan was to totally end The Power of the Jedi by taking over the body of Rey Palpitine, his granddaughter.
The continuous bloodline was important to Palpitine in conquering the Galaxy.
There's much to be said about evil influences on Earth which came from the bloodlines of reptilians and master races.
While Rey's bloodline came from the Dark Lord of the Sith, her positive spiritual influences came through Luke and Leia Skywalker.
Near the end of the film, the complete power of the Force was transferred to Rey by all the dead Jedi knights.
Obviously, This was "The War in Heaven" .
It appeared to me that Rey and Palpitine were avatars for the final battle between archangel Michael and archangel Lucifer.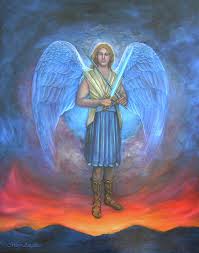 Notice that Michael was holding two swords similar to what Rey was using in her battle with Palpitine/Lucifer.
The War in Heaven happened about 500,000 years ago and finalized with the destruction of the Luciferian base Marduk which became the astroid belt in our Solar System.
Bradley Cooper was signed to play Lucifer in a movie of Milton's "Paradise Lost", but production was cancelled. Why? Well, what was Star Wars about?
Posted by qualteam at 9:20 PM EST
Updated: Thursday, 2 January 2020 9:50 PM EST