Alien Mind Control And L. Ron Hubbard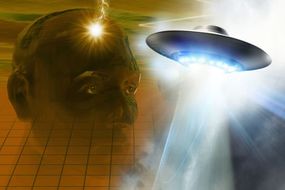 When President Obama announced that "aliens had strict control over us" to Jimmy Kimmel, it appeared that he had opened the door to "alien mind control". He made like it was a joke, but it's no joke at all.
Ever since, the Annunaki created their own version of man to mine gold for them, alien interference into the affairs of man have continued. Check out the influence of the Archons over the governments and religions of the Earth in the 1st century.
Moving forward into the early 20th century, we see the evil influence of the Reptilians on the Third Reich.
While the allies won the WW2, The Nazis managed to infiltrate the US in "Operation Paperclip".
It was no coincidence, that Allan Dulles set up MKULTRA in the CIA right after the war. Why would a democracy that believes in free thinking and human rights set up a "mind control operation"?
The whole study of UFOs and extraterrestrials was manipulated by a secret group called MJ12 that held up these subjects to ridicule.
Various ufologists and researchers looked at these covert alien influences through interviews with abductees. Check out these videos with David Jacobs, Karla Turner and David Icke. What they exposed isn't pretty. It's a threat to all humanity.
At about the same time that the CIA and Mkultra were created, L. Ron Hubbard was going through people's minds with Dianetics. He noticed that "pain/drug/hypnosis" incidents were coming up in some patients. He concluded, this was a CIA/Psychiatric Mind Control Operation at work.
For the next 40 years Hubbard continued his research into mind control within the subconscous of his test subjects. He was opening up Pandora's Box like the big scene from the movie "They Live".
With continued regression into past lives, Hubbard found out that negative aliens were exercising sublimal control of humans by the use of IMPLANTS: "A painful and forceful means of overwhelming a being with artificial purposes or false concepts in a malicious attempt to control and suppress him"(Dianetics and Scientology Technical Dictionary).
Alien mind control at work in the TV series: "The Good Place".
Most researchers have hit brick walls with regards to alien/human activities on Earth. Hubbard, however, has made some holes in a few of these unacknowledged black programs.
Andrea Bocelli The Lord's Prayer
Posted by qualteam at 12:19 PM EDT
Updated: Saturday, 2 November 2019 7:29 AM EDT