Some Christmas Movies Are Real Treats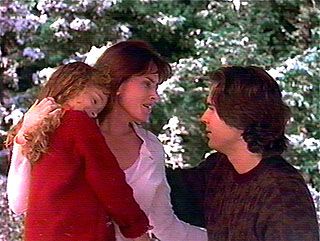 I've seen some very good Christmas movies over the last few weeks. The best one was "Borrowed Hearts". Like most Christmas movies, Borrowed Hearts is both heart-warming and inspirational. The child actress, Sarah Rosen Fruitman, steals every scene she's in and the chemistry between her and her borrowed father, Eric McCormach was just superb. Roma Downey does very well as Sarah's mother and Eric's borrowed wife, but the theme of the story revolved around the "father" and "daughter" finding each other and themselves. Four Stars.
Close behind "Borrowed Hearts" was Kevin Sorbo in "The Santa Suit". When Sorbo trys to get mall Santas to sell his toys, the real Santa steps in to make Sorbo appear like Santa Claus to others. The story is both hilarious and moving as Sorbo discovers the real meaning of Christmas. Four Stars.
In third place is the TV movie "Silent Night" starring Linda Hamilton. The story was somewhat similiar to the song "Christmas in the Trenches". This time it was World War Two and a couple of Germans and Americans shared a cottage with a German mother, Linda Hamilton and her son on Christmas Eve in 1944. While there was friction between the two enemy camps, a few Germans and a few Americans came to respect each other. Three Stars.
Of course, there's always the standard Christmas fare like "A Christmas Carol", "It's A Wonderful Life" , Home Alone (one and two)and "The Santa Clauses (one, two and three), but it's great discoverying film treats off the beaten path.
Posted by qualteam at 9:58 PM EST
Updated: Monday, 20 December 2010 11:02 PM EST