The Progressive Automobile X Prize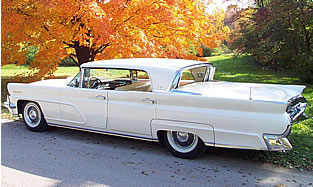 This is a 10 million dollar race across the U.S. with a goal to develop the cleanest-running car ever without sacrificing driving range or affordability. The race starts in New York in 2009 and will conclude in 2010.
Rocker Neil Young has his own super efficiency racer an electrified 1959 Lincoln called the Linc Volt. Advanced electric motor inventor Thane Heins is also working on this project.
The goals of the race are simple: "We're going to create cars that will allow us to stop giving our wealth to other countries for petroleum. We'll make history by making gasoline history".
With oil again going up quite a bit on world markets, the quicker this comes about the better it is for all of us.
The Linc Volt is the new "Grease Lightning" of the future.
A Grease Medley including Grease Lightning below:
Posted by qualteam at 10:09 AM EDT
Updated: Monday, 16 June 2008 11:33 AM EDT