Fear Mongering On The Stock Markets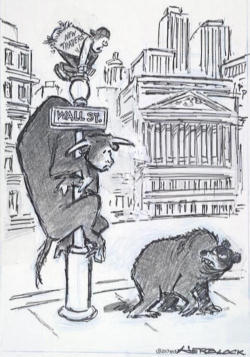 FDR stated back in the depression "that we had nothing to fear but fear itself." He could be talking today about the markets.
More than anything bear markets seem to feed on baser human emotions like fear, hopelessness and depression. Mankind can't advance if they think they're going to be eaten alive.
We survive because we step back from a situation (even a world war) and see what can be done about it. We use our heads, our rationality. We solve problems rather than being a problem.
On the stock market "bubbles" burst all the time. In 2001, there was the "tech bubble", in 2007, it was the "credit/subprime bubble".
However, the bottomline is not everyone that has money invested in mortgages, the stock market or anything else is stupid or nuts.
If fact, most of the companies in the U.S. are more value priced then other companies in the world. Most of them like G.E., Microsoft, Caterpiller are in good shape with good profits.
We all have to live within our means and I believe most people in the U.S. and elsewhere try to do so.
Affordable housing is beginning to appear in the U.S. and that's good. People will buy to live there rather than flipping the property because of inflated prices.
Green technology is coming on the scene and within a few years it will be driving the stock markets. The investment sheep are always chasing the next big thing.
My advice is to do what Warren Buffett does "buy good stocks at a value price and hold them a long time".
Posted by qualteam at 11:26 PM EST
Updated: Monday, 21 January 2008 11:35 PM EST