Another Look At NDP Leader, Howard Hampton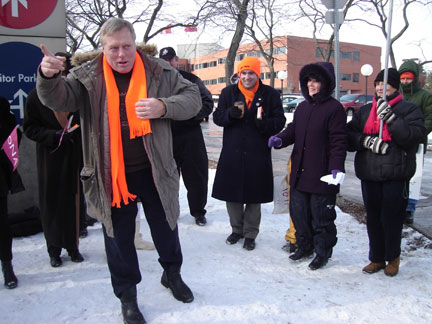 There isn't any chance that the NDP will become the next Ontario Government, but there's a chance that they could have some influence on a Liberal or Conservative minority government.
Howard Hampton seems to be realistic and idealistic about what he would like to accomplish in a minority situation: This is what he told the Toronto Star yesterday:
"The price of NDP support would include: eliminating the health tax for lower incomes and cutting it for middle incomes; a $10 minimum wage and the rollback of MPPs' pay hikes; new environmental "right-to-know" legislation about air, food, and water toxins and rethinking nuclear power; fixing the school funding formula; expanding home care for seniors, and cutting university and college tuition fees".
The above program seems to be a humane and thoughtful approach to social and enviromental issues.
Anyone recommending more alternate energies besides nuclear and a rollback of MPPs' salaries is definitely on the right track.
Howard has been in Ontario politics longer than John Tory or Dalton McGuinty. I think he deserves a chance to prove himself.
Posted by qualteam at 11:07 PM EDT