The Ontario Election Oct/07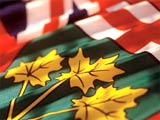 I'm not a big fan of anyone in this race.
I feel environmental issues have been given the short shift because of personal attacks on "Dalton McGuinty's Broken Promises" and "John Tory's Stand On Public Funding For Religious Schools".
Dalton McGuinty is the Premier of Ontario and I'm certainly not enamored by him. Neither do I support opposition leader, John Tory's position on school funding.
Both the Green Party and NDP are too socialist for my liking. Ontario needs to encourage big business to settle in Ontario. High taxes on them would discourage that and this province needs good jobs (Unemployment runs higher than the national average here.).
The best newspaper for best coverage on the issues is "The Toronto Star".
There's a referendum on proportional representation which I support. Probably, I'll decide who I'll vote for after I put my dot on "the proportional representation question".
The public funding for schools should be handled with a referendum just like it was in Newfoundland ten years ago. Here's my own poll on this "public funding question".
Posted by qualteam at 11:19 AM EDT
Updated: Thursday, 20 September 2007 10:01 PM EDT