Not Much Competition In This Year's Canadian Idol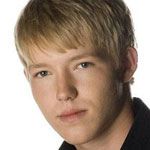 With many of the good singers already gone on Canadian Idol, it looks like clear sailing to the #1 spot for Jaydee Bixby.
While Jaydee still sounds too much like Elvis on many of his performances, he does have a boyish charm and an ability to stay in tune that the remaining artists often lack.
Other contestants like Matt Rapley, Martha Joy, Greg Neufeld and Tara Oram could have given Jaydee some competition, but the alternate pop/rock fans voted for Brian Melo, Carly Rae, and Dwight D'Eon.
Remember the American Idol finals between Jordon Sparks and "beat-boxer", Blake Lewis. Middle of the road America voted Sparks over the hip hop noises of Lewis.
Hearing Brian, Carly Rae and Dwight sing classic standards was painful. However, Jaydee singing "When You're Smiling" made my night. I wish him good luck in his career.
Jaydee Does "It's Only Make Believe".
Posted by qualteam at 10:45 PM EDT
Updated: Monday, 27 August 2007 11:02 PM EDT