Nazis And Ancient Aliens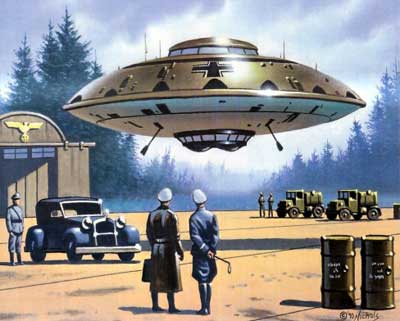 Last week, I saw "Ancient Aliens" on the History Channel. Because it was such a fascinating experience, I watched four episodes in a row.
My favourite episode was "Nazis and UFOs" . There seemed to be lots evidence that linked alien technology to Nazi rocket/spacecraft/weapon programs.
Through other sources, I've discovered that there was a planned invasion of Earth at that time which would have lead to an Apocalyse with a phoney Second Coming of Christ. The aliens were called Marcabs, but they were stopped by the defense system of "The Galactic Federation of Light". Powerful beings in "The Christ Continuum" were and still are connected to this organization.
The other programs dealt with alien settlements near Japan, in North America, India and in the Atlantic ocean(i.e. Atlantis).
I believe there has been numerous alien encounters in the past. TV programs like "Star Trek", "Star Gate" and "Doctor Who" hit a resonant cord in their viewers. No doubt, many of us have buried memories of what lies Out There.
There has been a "Memory Recovery Project" going on since the 1950s. The goal is to recover memories from past lives. More than anything else, science fiction seems to stimulate our minds and free us from religious dogma.
Posted by qualteam at 4:18 PM EDT
Updated: Thursday, 28 April 2011 11:20 PM EDT