100 Years After The Suffragists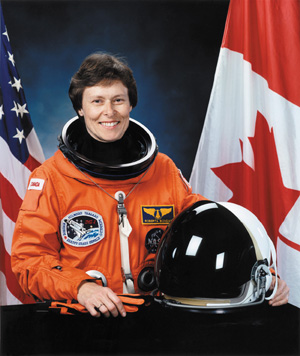 It interesting to note on "International Women's Day" that women have fought long and hard for their rights as citizens, workers and even human beings.
The Suffragette Movement started in the 19th century and was propelled by the strong arm tactics of Emmeline Pankhurst. You might call her the proponent of the doctrine that freedom and rights are won from the oppressors. They are not given. She definitely would support populist movements in the Middle East today.
Women won the right to vote after the first World War, but they still had to crack male establishments in politics and medicine to win equality rights. Nellie McClung in politics and Elizabeth Bagshaw in medicine were two of the pioneers.
This was just the beginning in Canada, because women had to win "The Right For Equal Pay For Equal Work". Laura Sabia and Doris Anderson were two fighters for those causes.
Because of the work of those who came before, Roberta Bondar (pictured above) became, perhaps, the biggest success of earlier feminist movements. She was an astronaut, doctor and scientist rolled into one.
As an astronaut, she got a bigger view on life. "When I looked out and saw Earth....something comes to life for you, an incredible emotion. You realize we need all the resources of every culture."
Every human life on this planet should have the freedom to realize his or her potential. The struggle continues.
Posted by qualteam at 2:36 PM EST
Updated: Tuesday, 8 March 2011 3:38 PM EST